Drumadonnell Nursery Unit Virtual Tour
Drumadonnell Primary School Virtual Tour
Welcome to our school
Welcome to our school website. We hope that as you navigate your way around the site you will become aware of what is happening in Drumadonnell Primary School and Nursery Unit.
While some areas of the site are already populated, work is on-going. As the year progresses, we hope to add additional information and features.
In the meantime, if you require further information, please contact us. Details are included in the "Contact Us" page.
Keith Spiers
Nursery Unit Prospectus 2022/23
CONGRATULATIONS!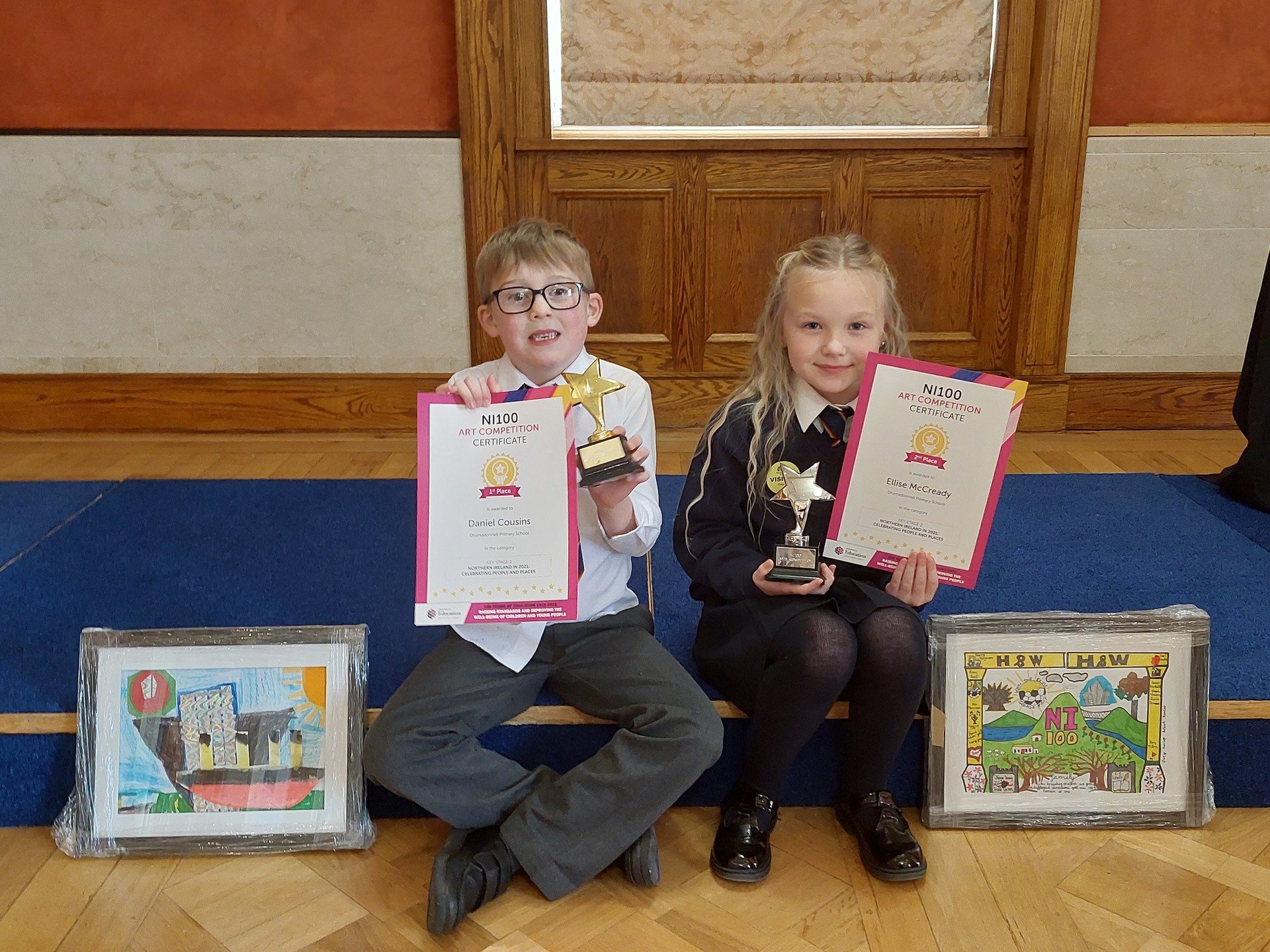 Congratulations to Daniel (P.3) and Ellise (P.5) on their success in the NI100 Art Competition organised by the Department of Education. Daniel was 1st in the Key Stage 1 category while Ellise was 2nd in the Key Stage 2 category. Daniel and Ellise attended a reception at Parliament Buildings, Stormont, where the Education Minister presented the awards. The school is very proud of their achievements.
COVID-19 PROTOCOLS - AUGUST 2021
Information on our return to school - August 2021
INFORMATION ON FULL RETURN TO SCHOOL (22nd March)
INFORMATION ON THE PHASED RETURN TO SCHOOL (MARCH 2021)
January 2021 Restart Information
The updated Safeguarding/Child Protection Policy has been posted in the "Parents" section of the website.
November 2020 Letter to Parents.pdf
October 2020 letter (including information about the extended half term holiday)
Letter of Information for Parents
LETTER TO PARENTS FROM THE CHIEF MEDICAL OFFICER
COVID-19 INFORMATION FOR PARENTS
September 2020 Letter to Parents
The "Request to Administer Medication" form is in the "Parents" section.
ADDITIONAL GUIDANCE ON OUR RETURN TO SCHOOL
Guidance for schools (home to school transport)
Letter to Parents/Carers from the Minister of Education
Education Restart Leaflet (DE)
IMPORTANT INFORMATION ON ARRANGEMENTS FOR RETURNING TO SCHOOL
Checking for Coronavirus Symptoms
Revised School Closures 2020/21
COLLECTION OF HOME LEARNING PACKS ON FRIDAY 1 MAY
URGENT MESSAGE ON THE COLLECTION OF HOME LEARNING PACKS
Letter re. School Closure on 18 March 2020
PRESENTATION TO DAISY LODGE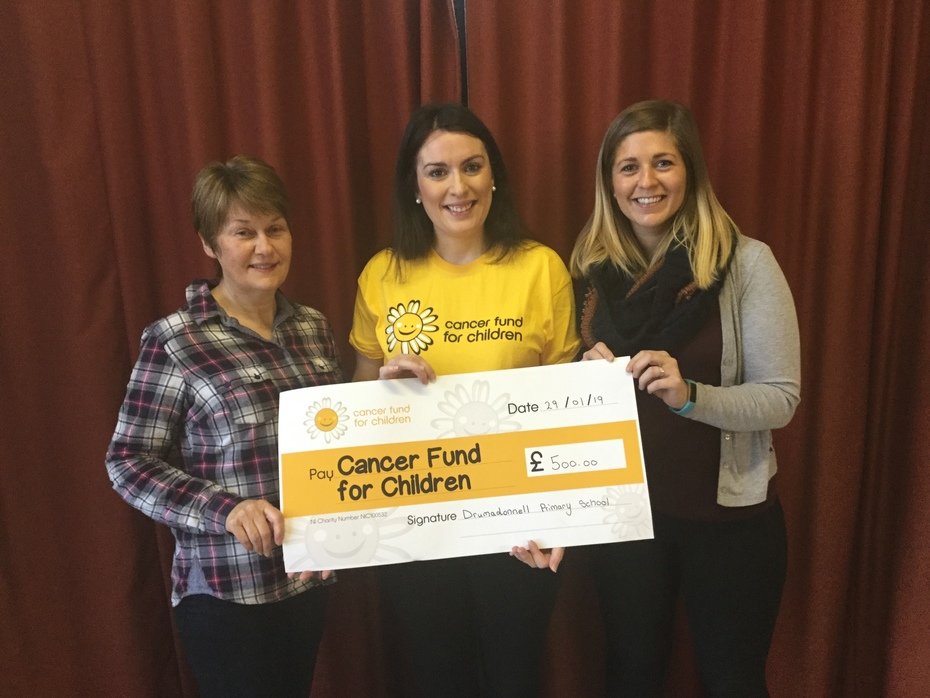 Mrs. Aisling Gibson from Daisy Lodge receives a cheque for £500 from Mrs. Peters and Mrs. Riddle. The money was raised from donations in lieu of staff Christmas gifts.
Our "Wacky Hair Day" for Children in Need raised £352.60. Many thanks for your support. We had a great day!
Presentation to Cancer Research UK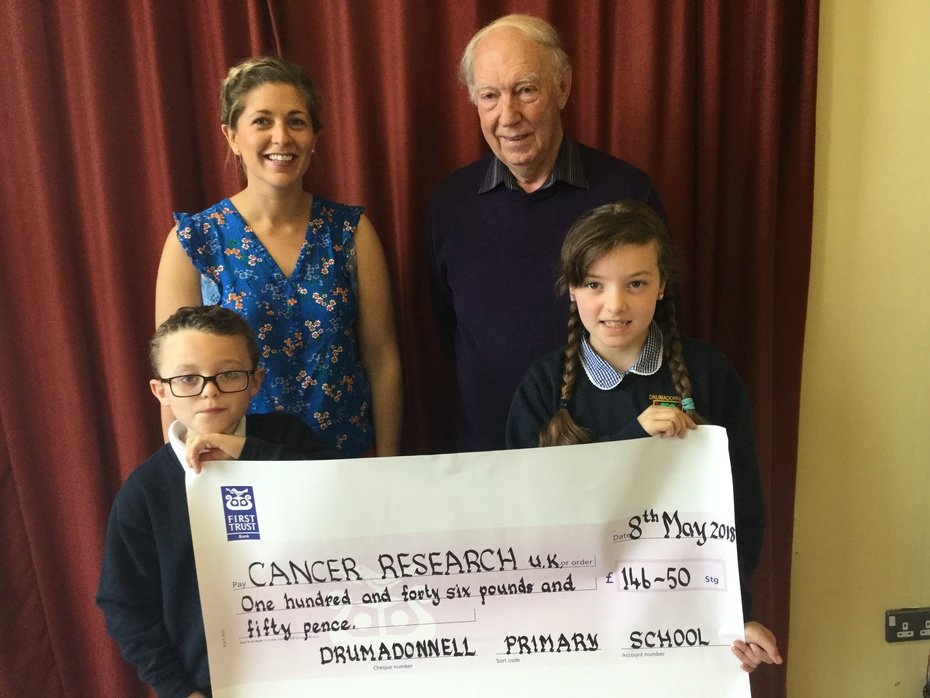 Included in the photograph are Mr. A. Bingham, Cancer Research UK, Mrs. L. Riddle, James and Aimee. The money was raised through the sale of Unity Bands.
£2263.60 raised for the NSPCC
Pictured presenting the cheque to Grainne Girvan and Christine McElroy are Mrs. Bingham, Mrs. Hetherington, Bryson and Willow.
Fun Fit Friday for the NSPCC
Presentation to Daisy Lodge Cancer Fund for Children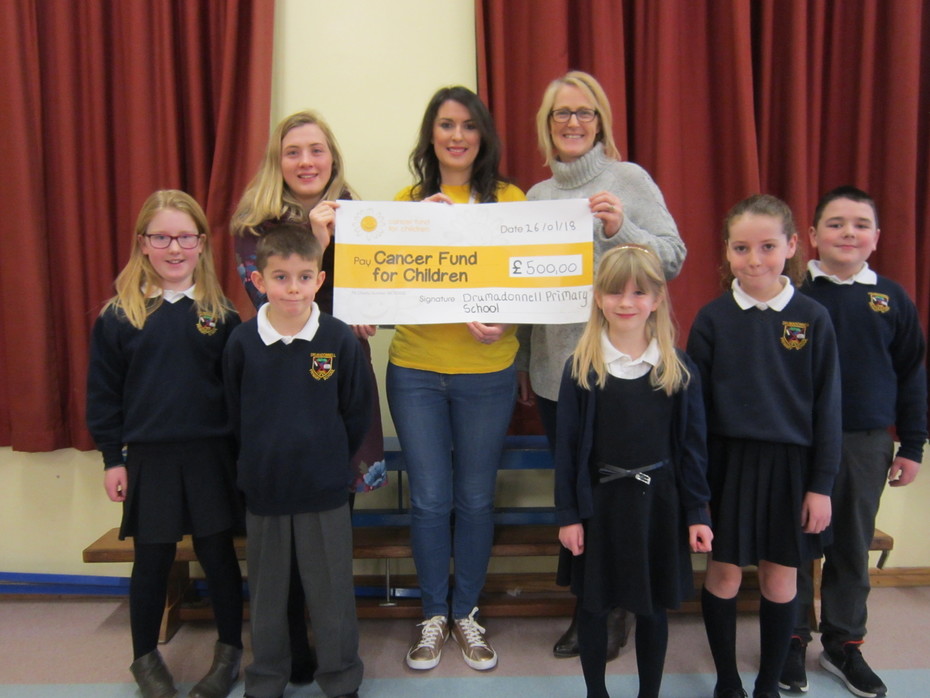 A cheque for £500 has been presented to the Daisy Lodge Cancer Fund for Children. The money was raised through donations in lieu of staff Christmas gifts. Pictured making the presentation on behalf of the school are staff members Mrs. K. Lavery and Mrs. A. Hayes. Also included are Holly, Scott, Olivia, Thea and Adam.
CHRISTMAS AT DRUMADONNELL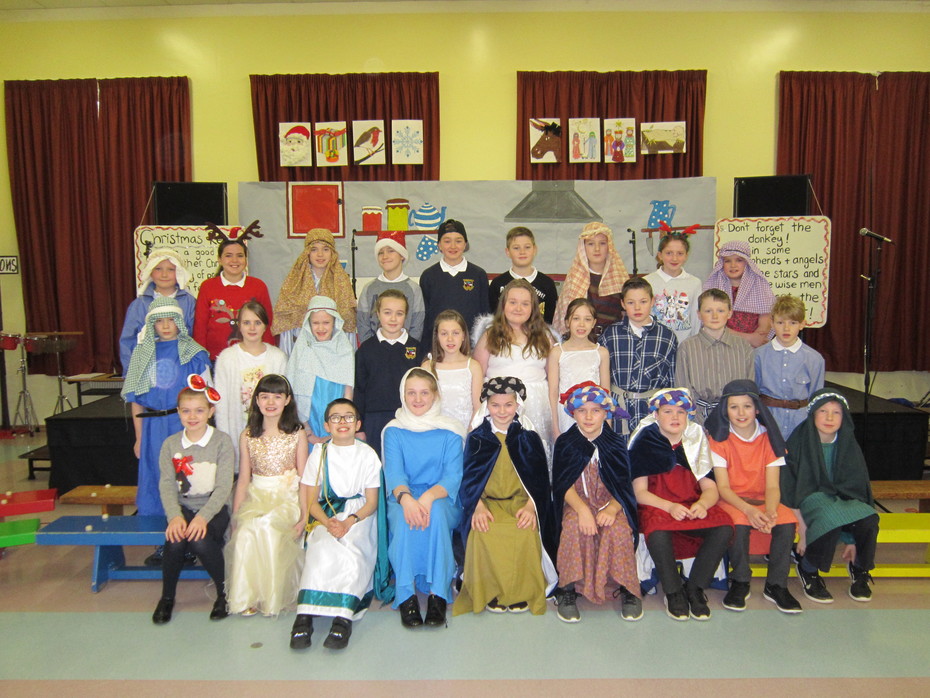 P.7 cast of "Let's do a Nativity"
CONGRATULATIONS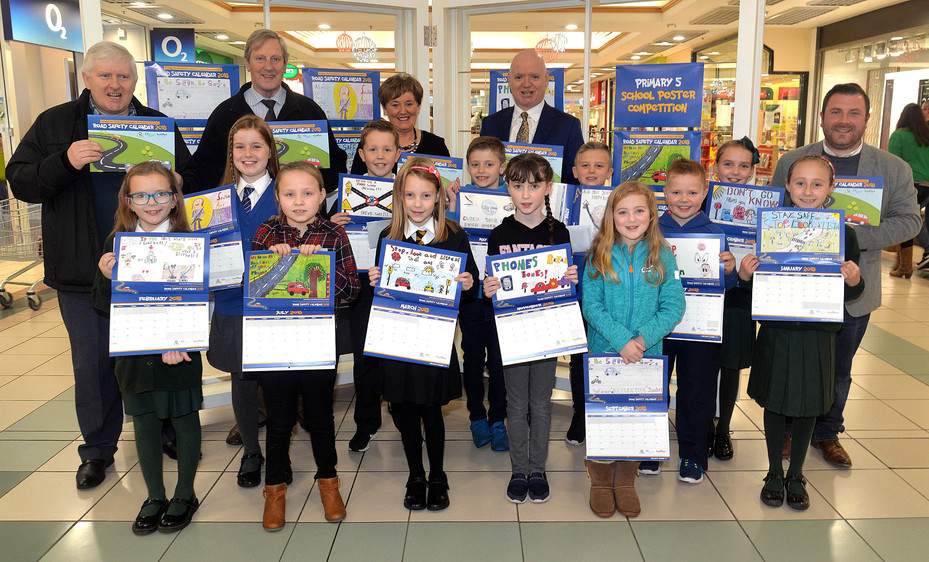 Congratulations to Eva Martin, Kyla Murray, Lewis Johnston, Jack McConnell, Charlie Smyth and Matthew Truesdale (all Primary 5) who were winners in the ABC Council Road Safety Calendar Competition. Can you spot them in this group photograph?
Look who came to visit us.......Mrs. Wilson and Isabella.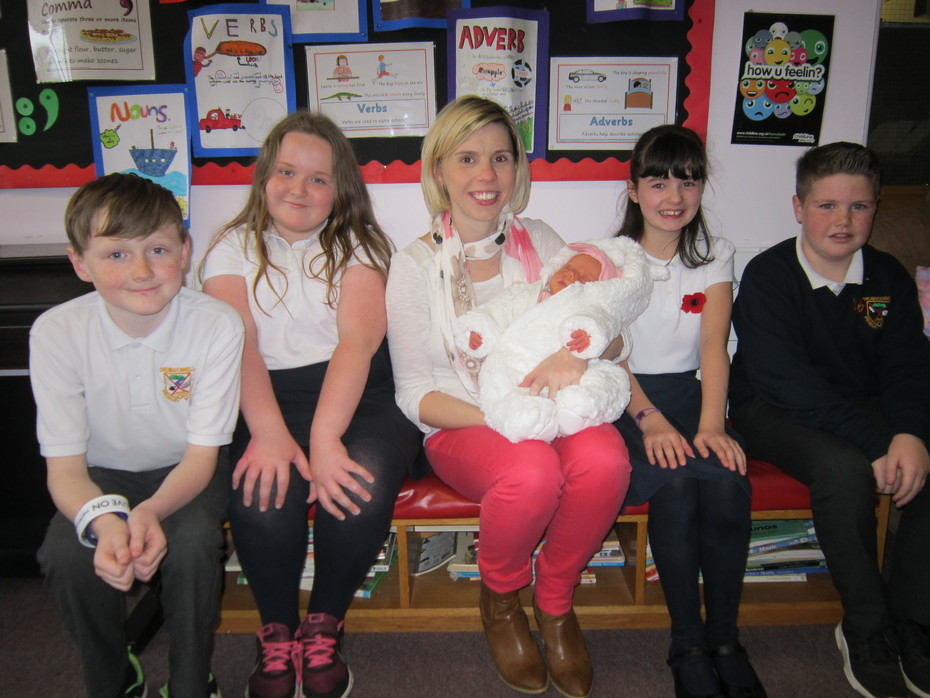 On Friday 15 September 2017 we were delighted to welcome the New Beginnings Voices of Africa Choir to the school. The children delighted us with their song and dance routines. We were also pleased to present £450, donated by our school community, to New Beginnings. A BIG "thank you" for your support.