News
The book fair is in school this week. Mrs. Burden, the Literacy Coordinator and book fair organiser is pictured with some members of her Primary 4 class.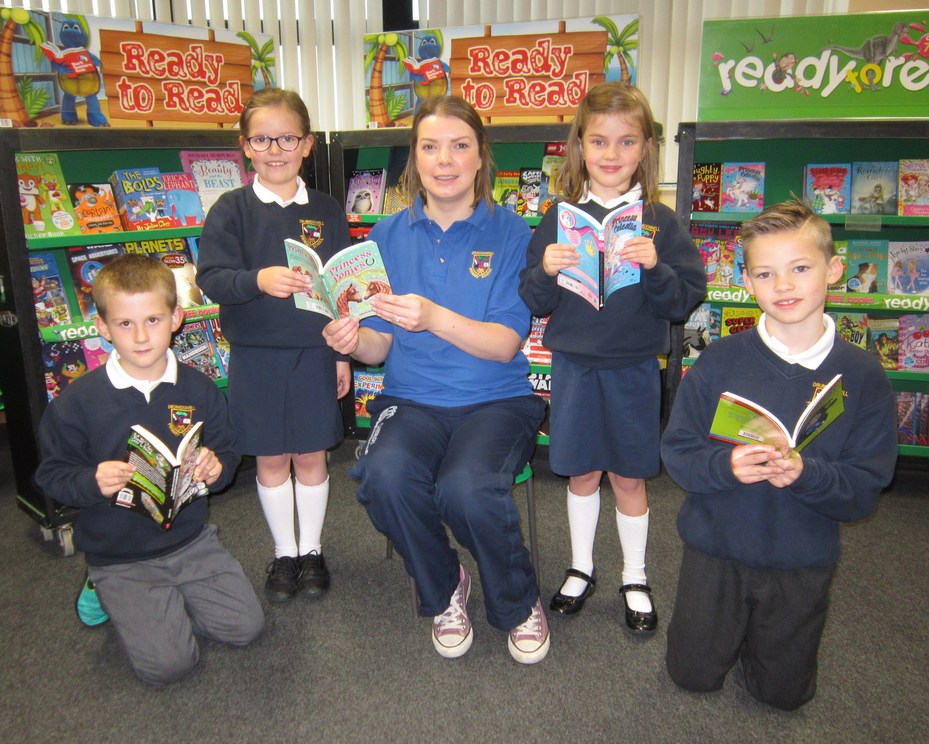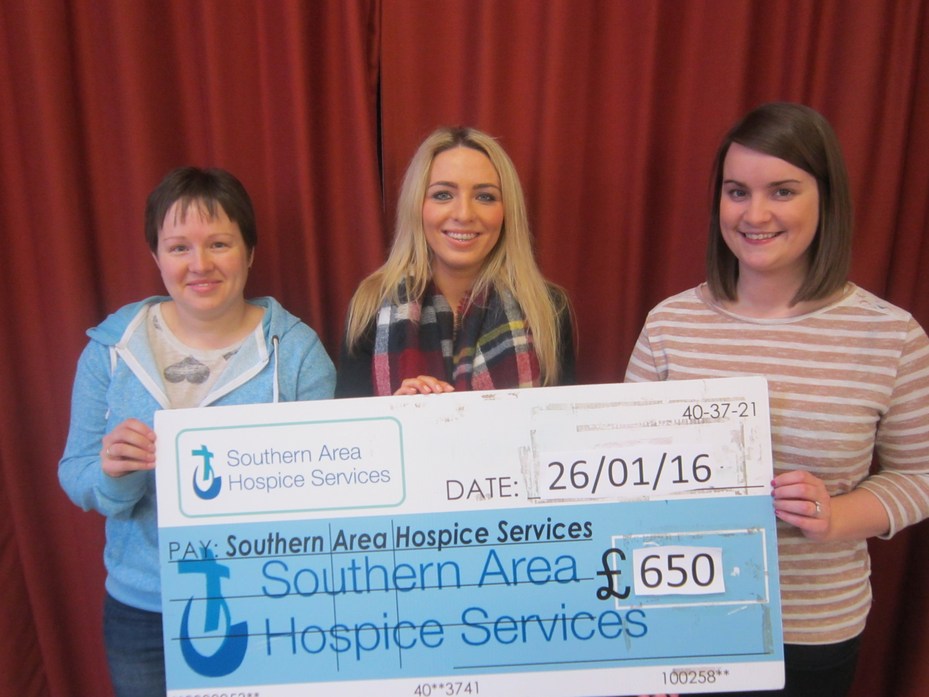 A presentation was made to Leanne Redmond, representing the Southern Area Hospice. The money was raised through parent donations in lieu of staff Christmas gifts. Representing the staff are Mrs. Hanna (left) and Mrs. Ross (right).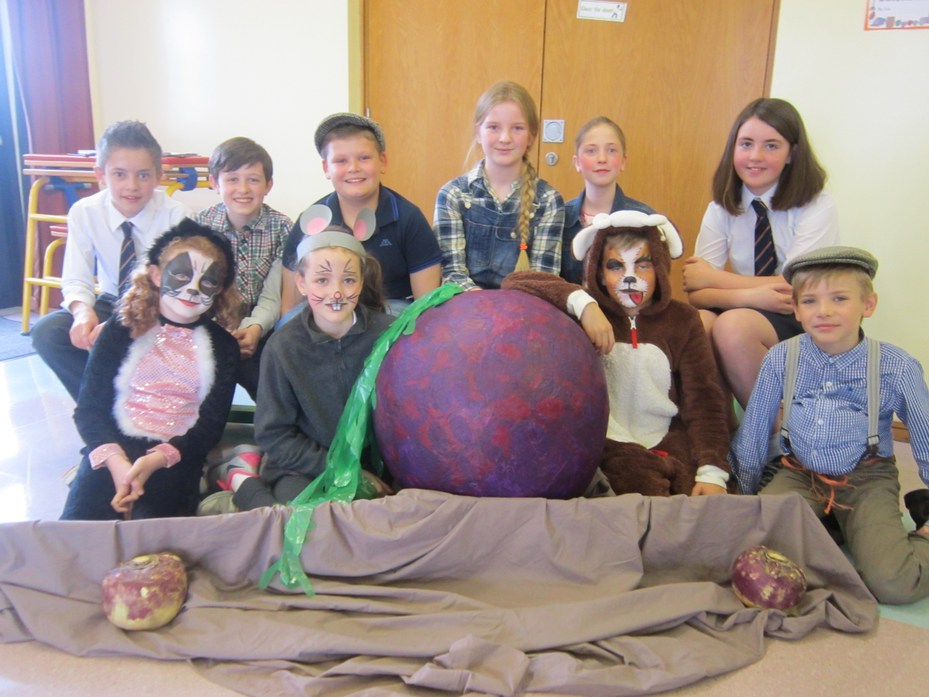 Children who performed "The Enormous Turnip" at our harvest services.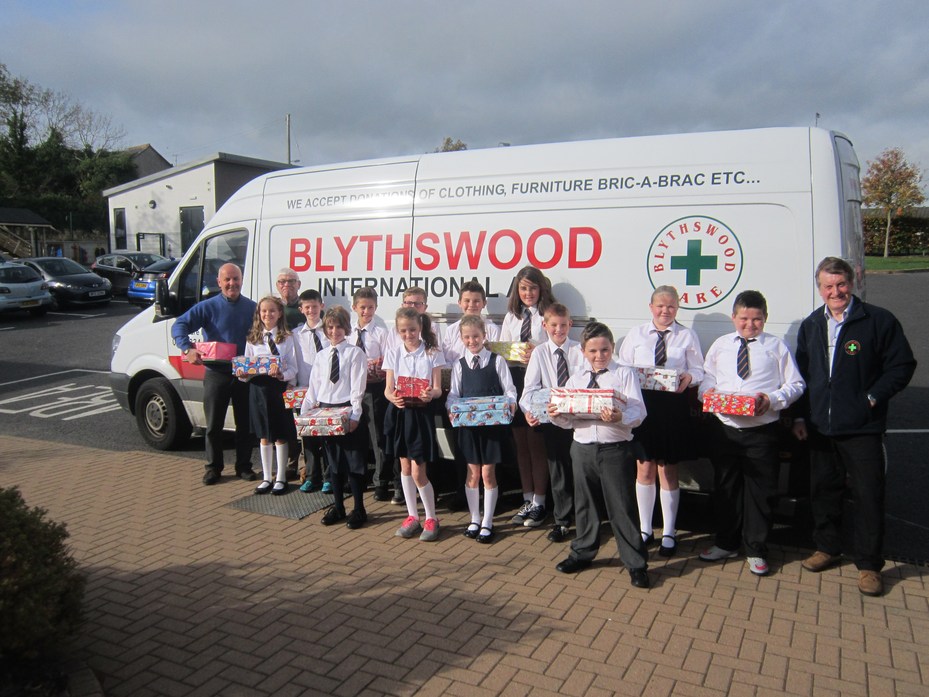 The school collected 100 shoe boxes for Blythswood. Here are some children helping to pack them in the van.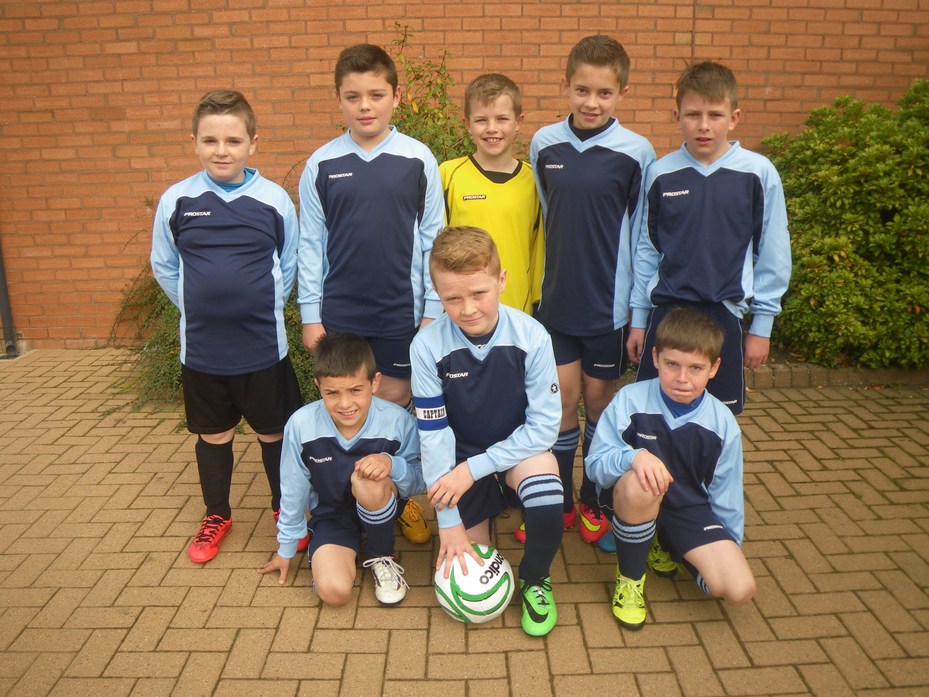 The football team represented the school at a tournament for primary schools held in Banbridge. The boys had a thoroughly enjoyable time. Well done!
Some photographs of our recent trip to York and Scarborough have been posted on the "Photographs" page of the website.
Drumadonnell Primary School celebrated World Book Day on Thursday 5 March 2015. Here are some of the children in their costumes. Everyone enjoyed the day!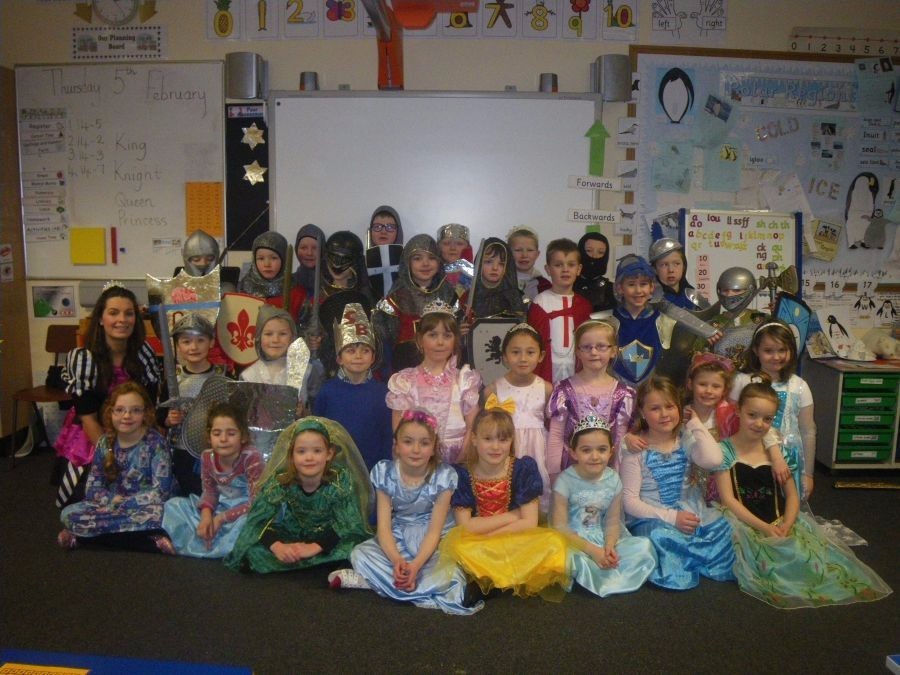 Primary 3 children have been working on the topic of "Castles". This is a photograph of the children and their teacher, Mrs. Thompson, on the day of their banquet. They look really well in their fine costumes.
A cheque for £650, in lieu of staff Christmas gifts, was presented to Leanne Redmond and John Jardine (Southern Area Hospice) at the Primary 4 assembly on Friday 30 January 2015. The presentation was made by staff members Mrs. Bingham and Mrs. Hanna. Many thanks to the parents for their generosity.
Our collection for Lepra amounted to £3085.05. This is tremendous amount and we thank all parents and friends of the school for their generosity. Very well done!
Our coffee morning on Friday 26 September 2014 for Macmillan Cancer Support has raised the magnificent sum of £1100.44. Many thanks to everyone who organised the event, attended on Friday morning and gave so generously to this worthy cause.
WORLD BOOK DAY COMPETITION WINNERS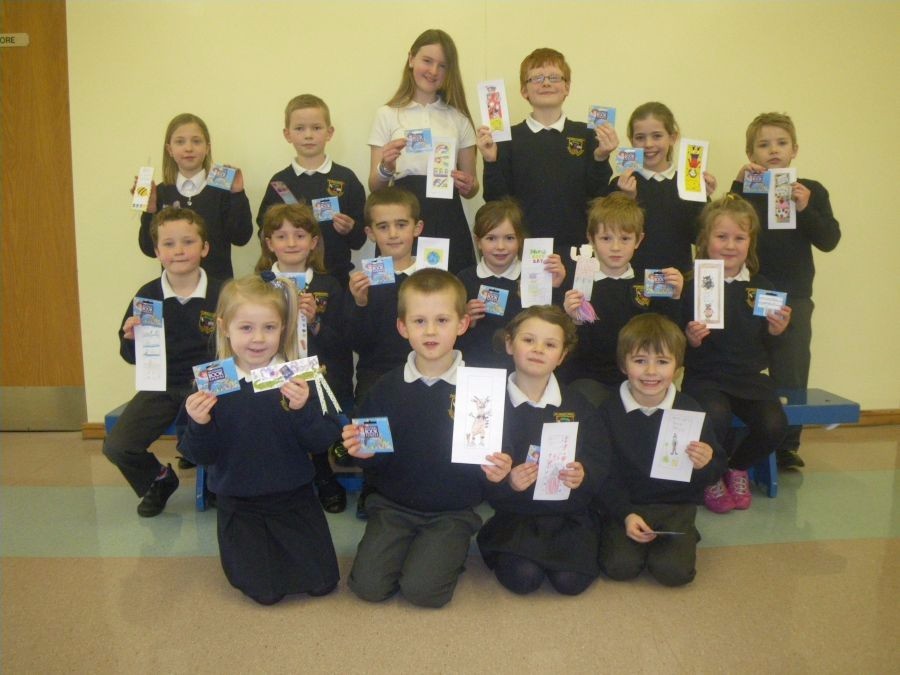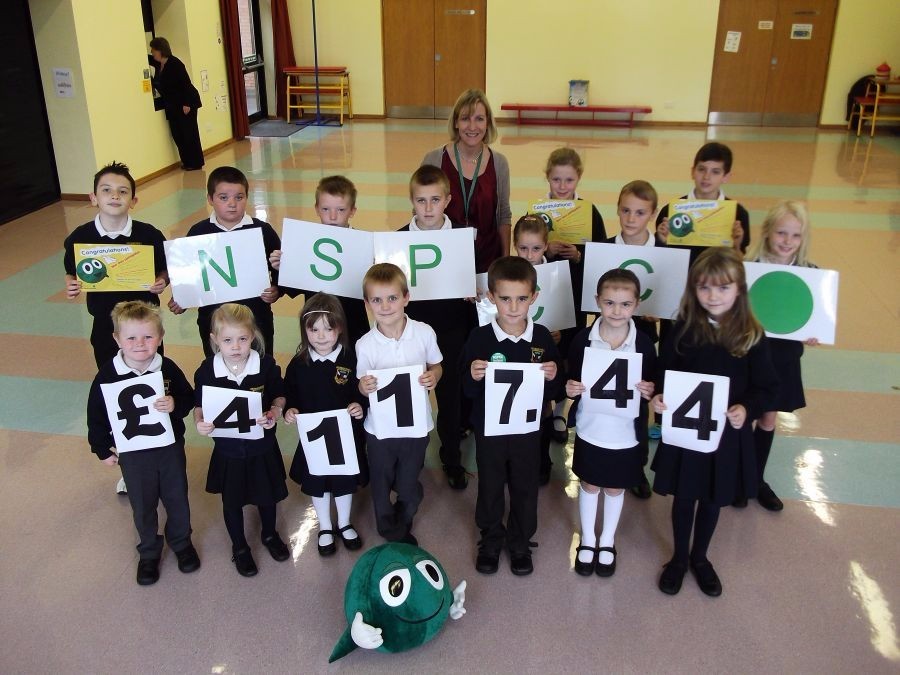 £4117.44 has been raised for the NSPCC. What a collection!!! Very well done to everyone who took part in our "Pyjamas/Onesies Walk".
Sports Day Award Winners
Easter_Information.doc
WORLD BOOK DAY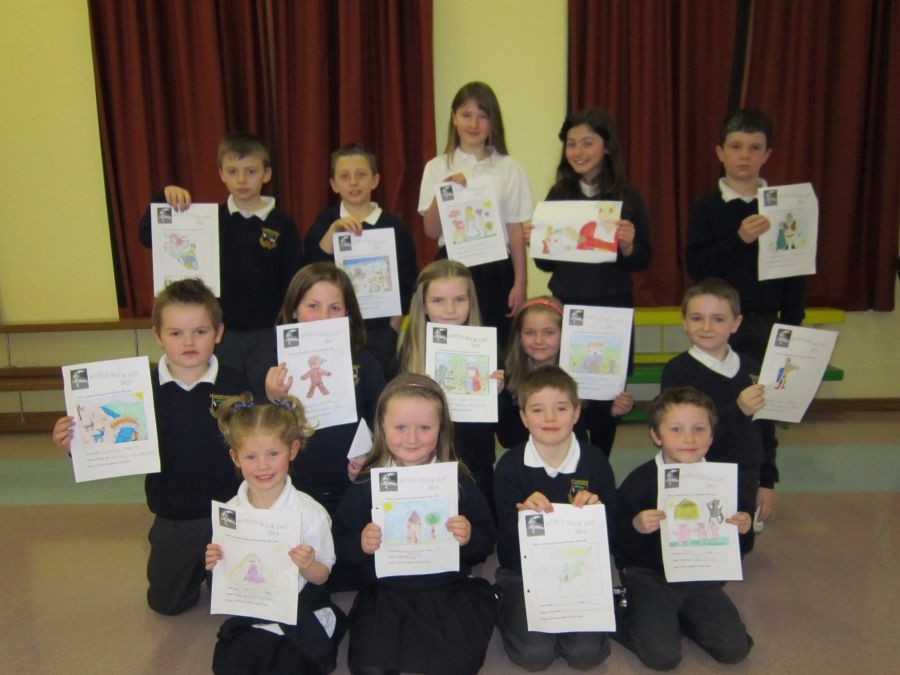 Pictured above are winners from each class in the World Book Day Competition. Each child drew a picture from a fairy tale and the prizes were presented at morning assembly. Well done to everyone for taking part.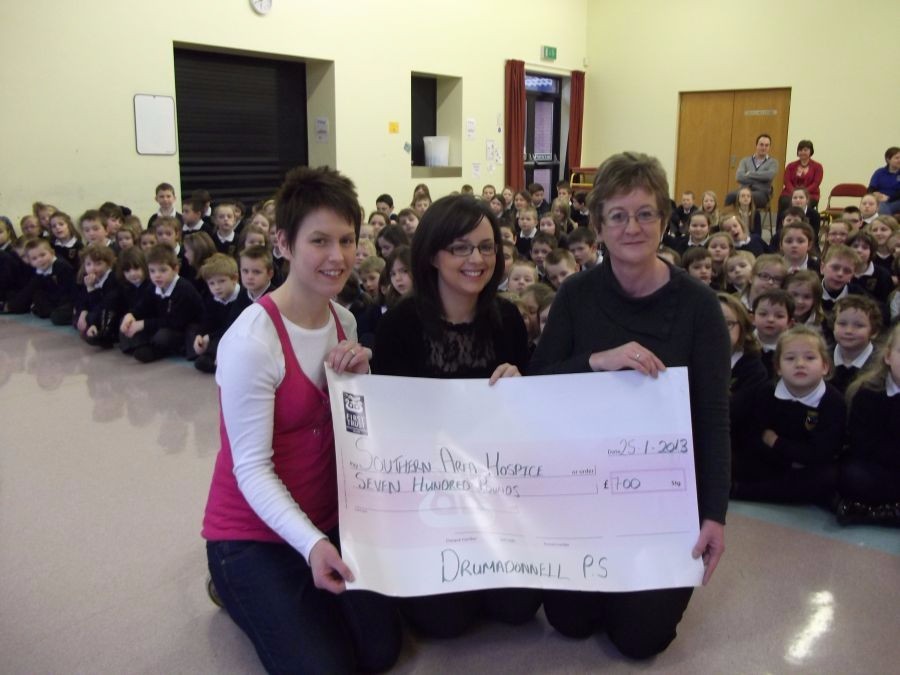 £700 was presented to the Southern Area Hospice on Friday 25 January 2013. The money was donated by parents in lieu of staff Christmas presents. Making the presentation to Ms. Tracey Muldoon are members of staff, Mrs. Inez Thompson and Mrs. Jane Sinnamon.
Primary 3 and 7 dress rehearsal photographs on "Photographs" section of our website.
December_News_2012.doc
Information_on_Inspection_Report.doc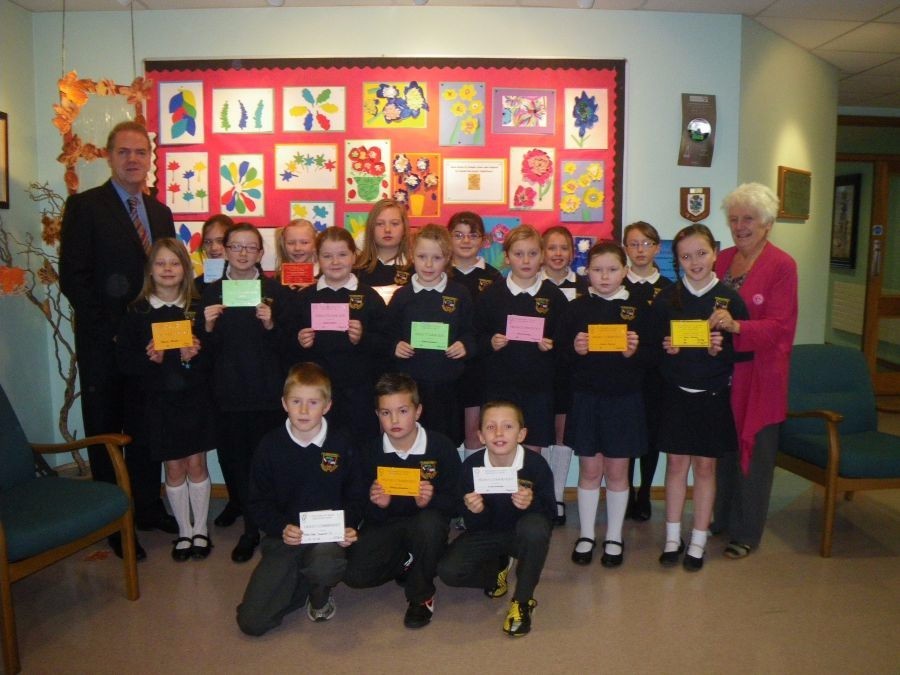 Castlewellan Show competition prize winners pictured with Mrs. Violet Bell after receiving their awards.
Congratulations to Sarah Johnston (P.7) who has been awarded 2nd place in the Irish Bronte Society Writing Competition. She is pictured here with Mrs. M.Livingstone and Mr. M. Patton (Bronte Society) and Mr. K. Spiers (Principal).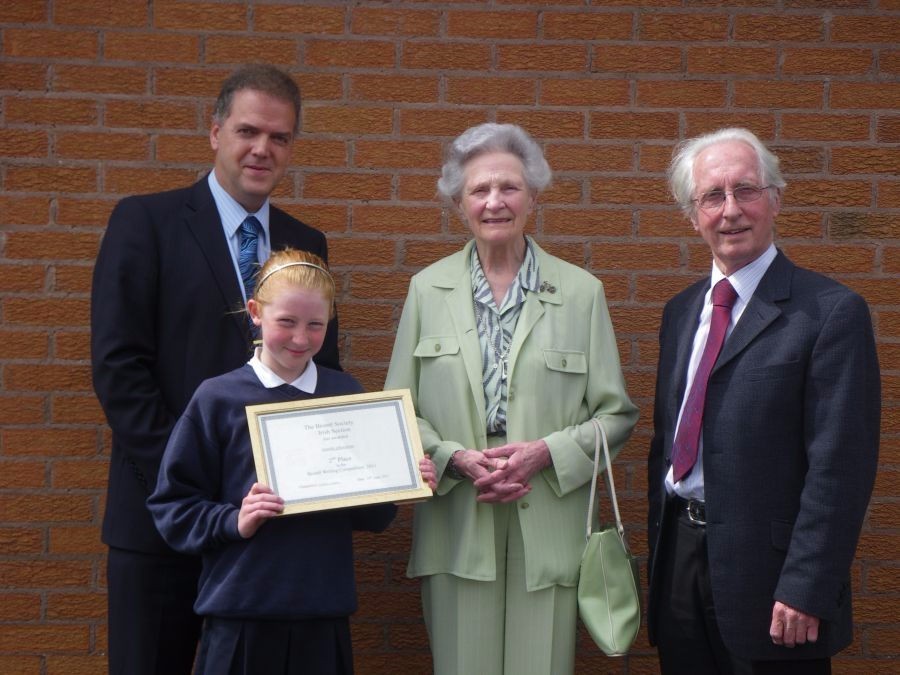 SPORTS DAY PRIZE WINNERS
WELL DONE!!!!! £1975.32 RAISED FOR BARNARDO'S AND £453 FOR COMBAT CANCER. THIS IS A MARVELLOUS EFFORT.
May Letter
WORLD BOOK DAY CELEBRATION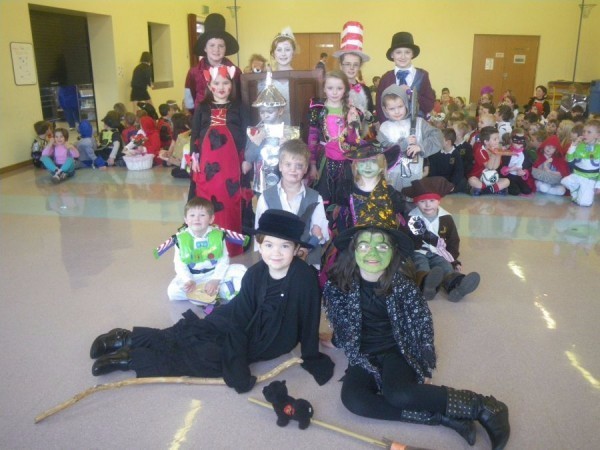 Class prize winners in the World Book Day competition. The children dressed as book characters and everyone enjoyed the day. Parents came along to see the children in their costumes. Well done to everyone!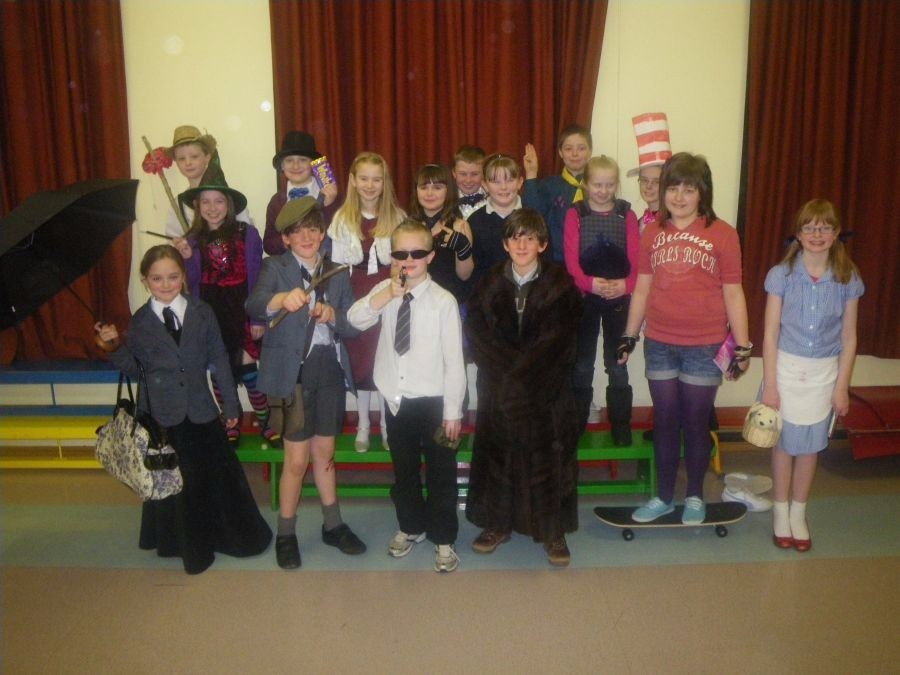 Some P.6 children posing for the camera.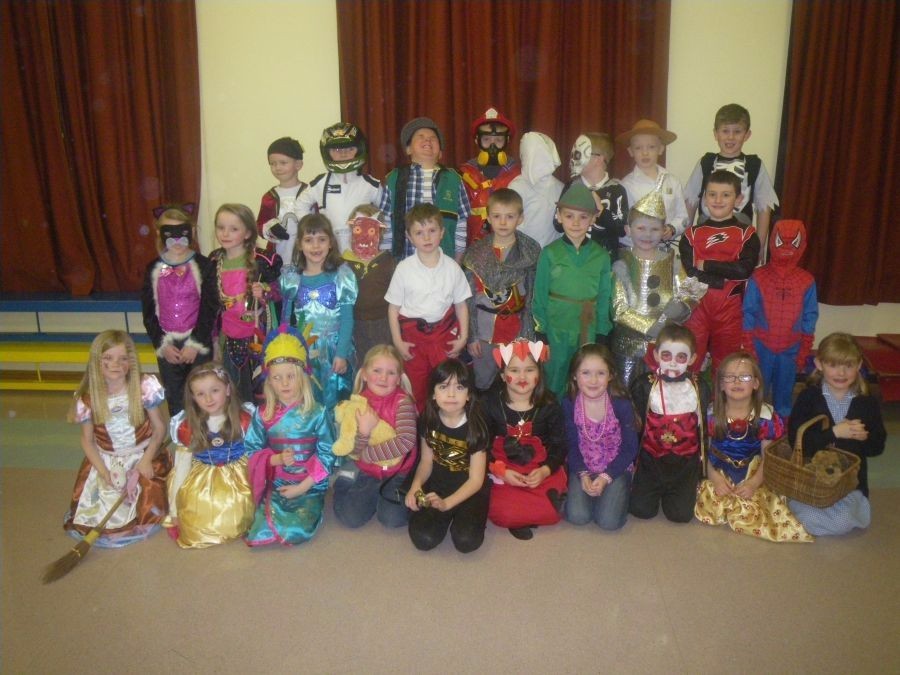 Mrs. Black's Primary 3 class enjoying the day.
Primary 7 children enjoyed a trip to the Palace Stables, Armagh, where they experienced the "Boxes in the Attic" Victorian programme. Here are some photographs from the visit.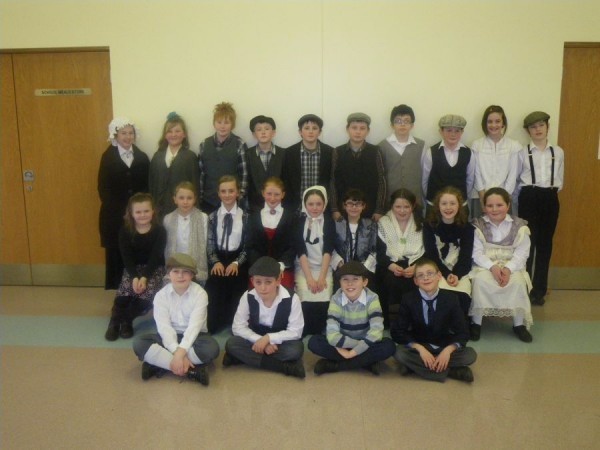 Pyjamas Day and selling Pudsey biscuits - £524.79 raised for Children in Need!!!!!!
WELL DONE!!!!
November_2010_letter.doc
A big "thank you" to all who attended our Harvest Service on Friday 22 October. We really appreciate the support of our parents and we hope you enjoyed the children's performances. Thanks also to Mr. Davis who gave the talk.
Mrs. McDowell (Cook-in-charge) and the kitchen staff organised a World Cup Competition. Here are the winners of the competition with their prizes.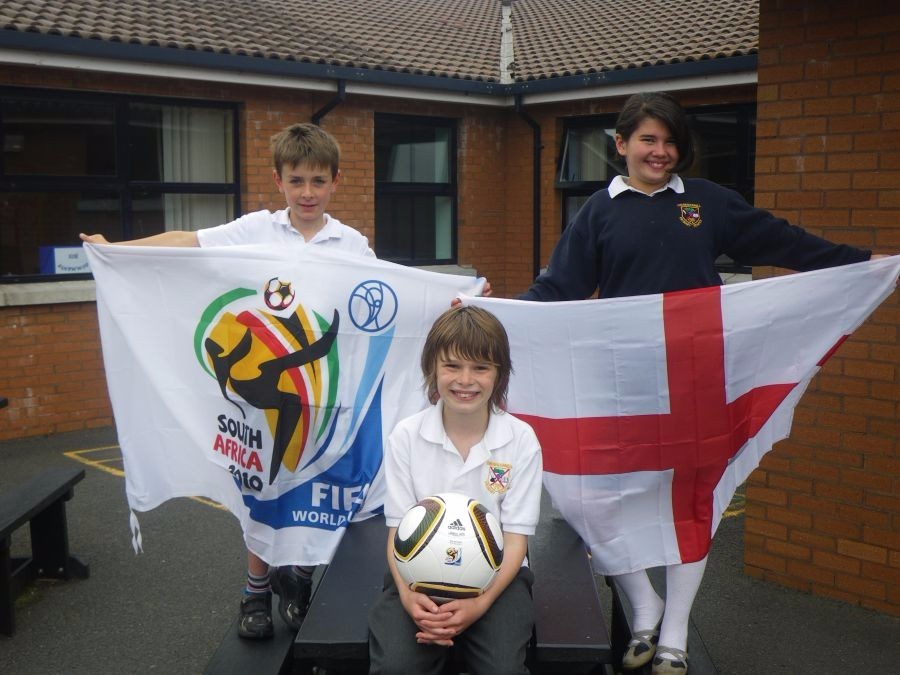 To see prizewinners in the Bronte Society Essay Writing Competition please click here.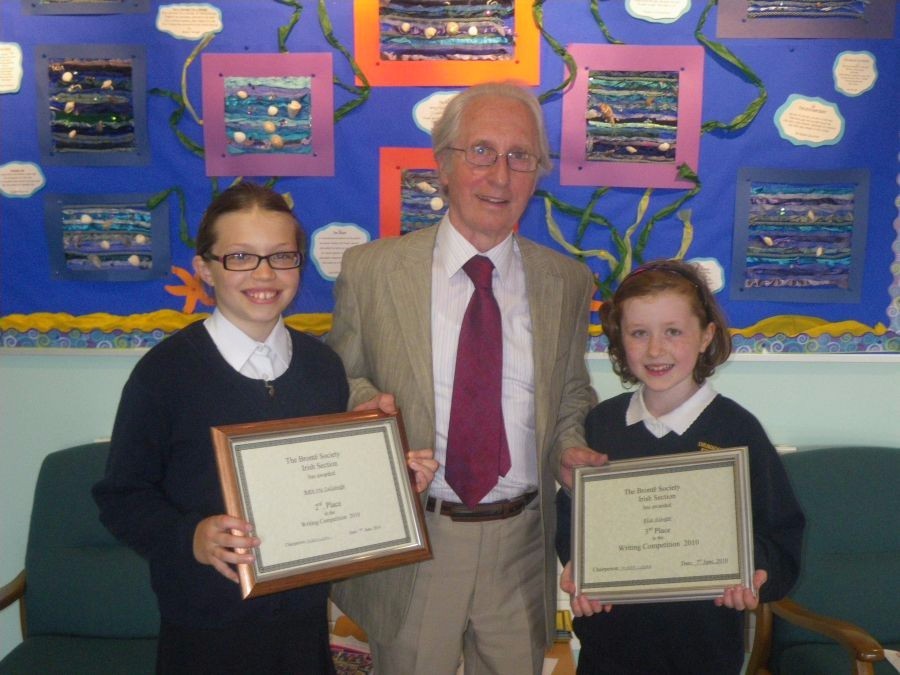 Ducklings at school!!!
The duck nesting over the past few weeks beside the school fence has now ten little ducklings. Here is a photograph of them setting off down the river.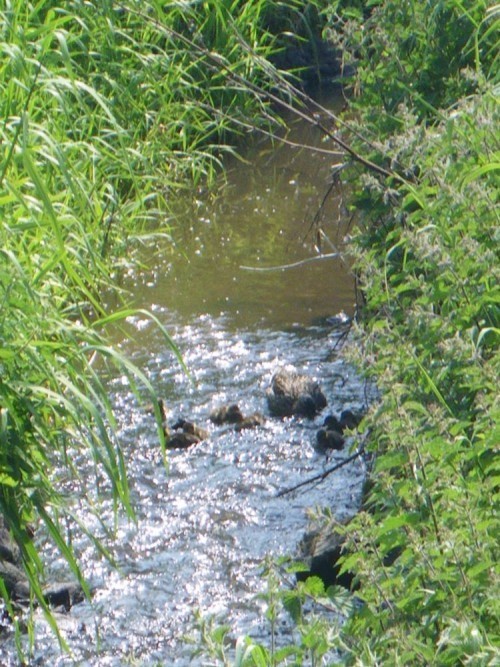 £312.55 collected for Children in Need through our "D-Factor" talent show and the sale of Pudsey biscuits.
Well done!!!!
Following the Linguistic Phonics Awareness Evening for parents, a link to a useful website on phonics has been placed on the parents' section of this website.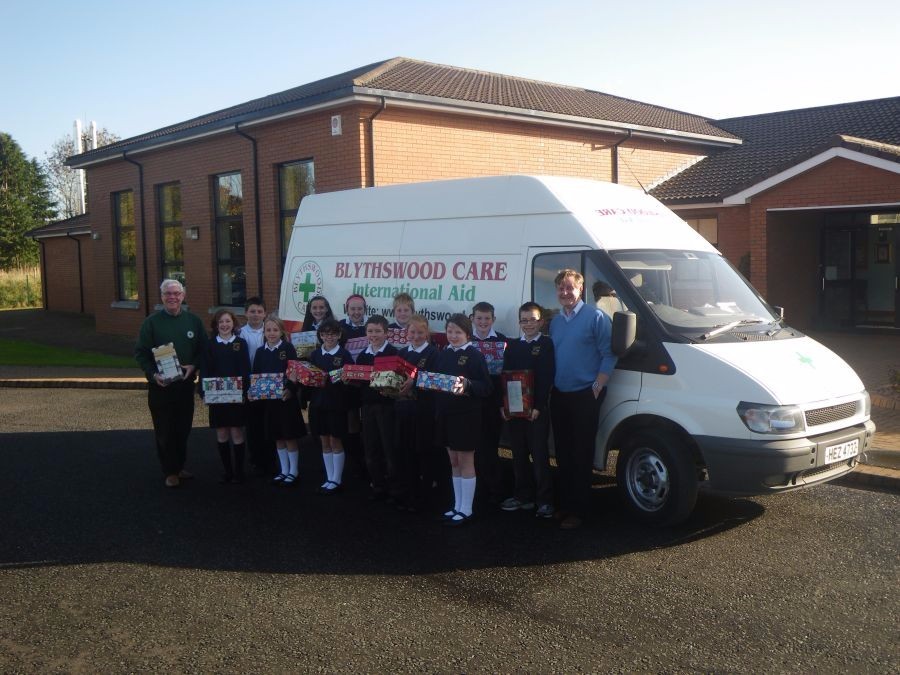 The school has collected 106 boxes for the Blythswood Care Shoebox Appeal. This year the shoeboxes are being sent to Pakistan. This photograph shows some pupils helping the Blythswood Care volunteers, Jackie Hudson and John Brown, load the van on Wednesday 27 October.
Photographs of Primary 7 trip to the Palace Stables, Armagh. (Click here)

OPENING OF NEW EXTENSION ON TUESDAY 16 JUNE 2009
A Special Assembly was held in Drumadonnell Primary School on Tuesday 16 June 2009 allowing the staff and pupils to give thanks for the new extension and other improvements.
The work included a new classroom and group room, alterations to existing resource areas, provision of additional car parking, playground extension and landscaping.
Guests included Mr. Gregory Butler (SELB), Mr. Derek Wortley (SELB Architect), Mr. Dan Rice (Clerk of Works), a representative from James J. Rice (Building Contractor) and members of the school's Board of Governors.
A short programme included the P.1-3 children singing "If I Were a Butterfly", P.4 children reflecting on their new classroom and the Senior Choir singing "Let the Little Children Come" and "Wouldn't it be Loverly".
Rev. Philip McCullough read while Rev. David Somerville, a member of the SELB and also a school governor led in prayer. Another governor, Rev. Michael Davidson, gave an appropriate talk.
Mr. Brian McBurney (Chairman) spoke on behalf of the Board of Governors while Mr. Gregory Butler spoke on behalf of the SELB.
Mr. Keith Spiers (Principal) brought the assembly to a close by thanking those involved in the provision of the new facilities and those who had contributed to the assembly.
Refreshments were served and guests had the opportunity to view the extension and extended resource areas.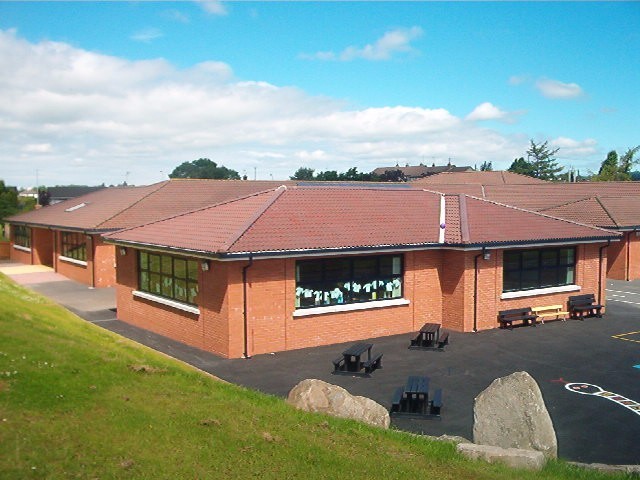 Photograph of the new extension